4th Annual DPAF Silent Auction benefiting Camp Wonder – Raised $10,148
Thank you to everyone who participated in and bid on our 4th Annual Silent Auction benefiting Camp Wonder. We had over 60 items in this year's auction including conference registrations, dermatoscopes, trips, and more. With your support, we were able to raise a total of $10,148 to donate to Camp Wonder for the 2020 session of Camp Wonder. It's not too late- want to help us make an even larger donation? Pledge to our overall donation goal a straight donation by visiting our auction website. Donations for Camp Wonder held by the Children's Skin Disease Foundation are being collected through June 30th.
Annual DPAF 5K Charitable Run/Walk Event
The Dermatology PA Foundation (DPAF), the official foundation of the SDPA is hosting the Annual Charitable 5K Run/Walk, and this year it is benefiting Wigs for Kids.
Wigs for Kids supports children nationwide who are in need of wigs from various skin and medical conditions resulting in hair loss.
In support of this organization, we will also be holding a hair cutting event during the SDPA Annual Fall Conference in Scottsdale. Board members from the SDPA, DPAF, and conference attendees can donate their hair and then receive a styling from partner stylists who will be at the conference. Not attending but want to donate your hair? Connect with a stylist near you by visiting the Wigs for Kids hair donation website.
Register to run/walk online via the DPAF website using the link below. This year's 5K will be held on-site at the Society of Dermatology PAs (SDPA) Fall Annual Conference in Scottsdale, AZ at the Westin Kierland Resort & Spa. Not attending the fall conference? Participate at home "virtually" by completing the online registration anytime by November 30th. Then, grab your running shoes (and a friend) and complete the walk at home.
When you register online you will be mailed a race packet which will include a commemorative race shirt, medal, and a racing bib. Before you get going be sure to take a photo, and tag the DPAF on social media #DPAF & #GettinFrizzyWithIt .  (Those attending the SDPA Fall Conference can pickup their 5K Run/Walk Kit at the DPAF Booth)
Sharing your photo with us on social media will enter you to win a gift card for most creative run/walk photo. All net proceeds from the DPAF 5K Run/Walk will be donated to Wigs for Kids.
---
Past Events & Activities:
2018 3RD ANNUAL SILENT AUCTION
OCTOBER 15 – NOVEMBER 3, 2018
The DPAF hosted it's 3rd Annual Silent Auction in honor of Camp Wonder. Our 2018 auction was a great success raising over $11,000 of our $20,000 fundraising goal. Our Silent Auction opened online October 15th to the public. Items in our full catalog ranged from dermatology CMEs, to fun items such as jewelry, restaurant gift cards, jewelry, spa trips, hotel stays and so much more.
THANK YOU TO OUR 2018 SILENT AUCTION DONORS!
Items from all of these donors and more were donated for our 2018 3rd Annual Silent Auction: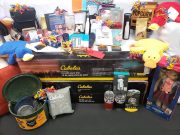 2018 5k CHARITABLE Run/Walk honoring the Hidradenitis Suppurativa Foundation
The 2018 annual charitable run was held from June 28 – July 1, 2018 in honor of the Hidradenitis Suppurativa Foundation! Registration opening at the beginning of the SDPA's Annual Summer Dermatology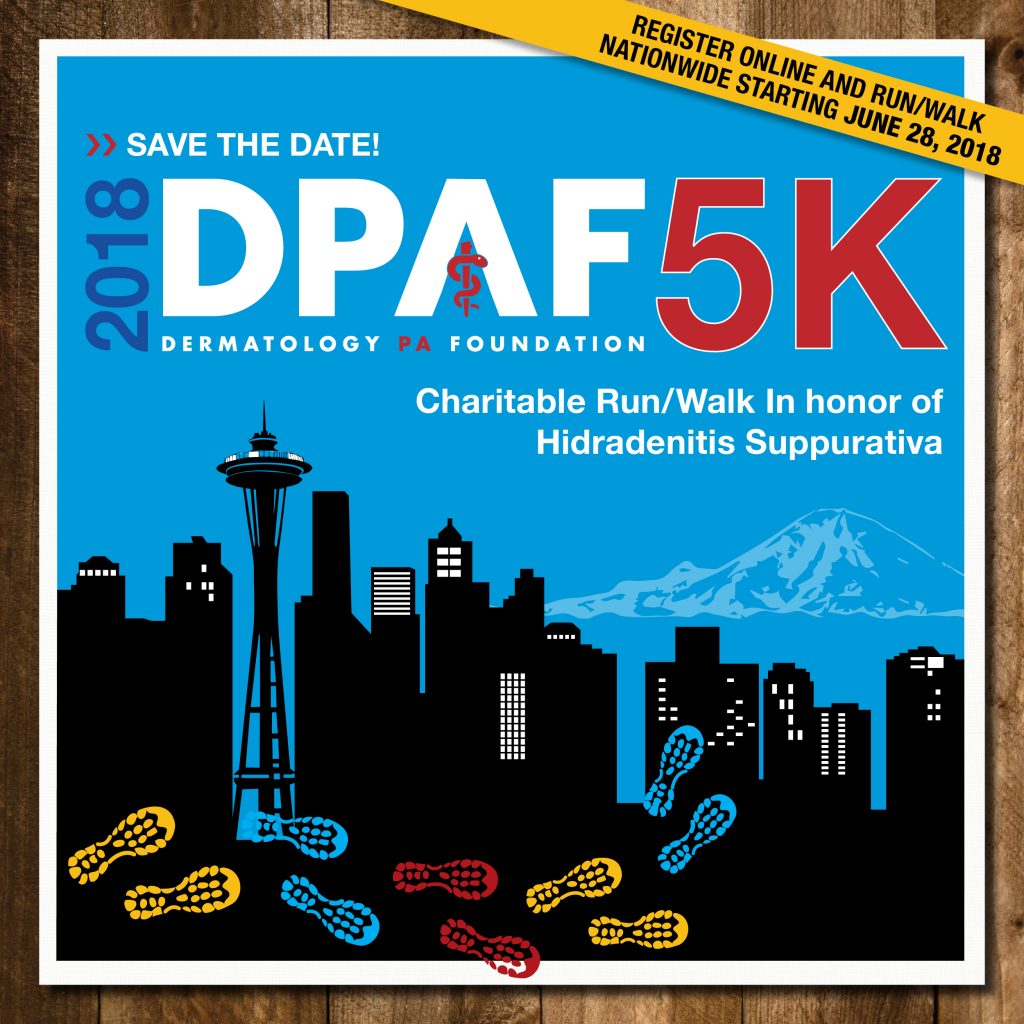 Conference 2018 held in Seattle, Washington. Registration opened on June 28th. Attendees were able to register to run, walk or even sleep in. Each registrant received a fun unique commemorative t-shirt and medal for participating. Although many registered while they were at the SDPA summer conference, many also registered online and completed the race from their hometown. Those who registered online were mailed their race packet and then sent us photos and updates on their at-home race. Closing July 31, 2018 the 2018 DPAF Charitable Run was our most successful race yet with nearly 100 participants all racing to support Hidradenitis Supperativa.
---
2nd Annual DPAF Silent Auction 2017
The DPAF hosted its 2nd Annual Silent Auction from November 20th until December 12th online.
The DPAF set a fundraising goal of $20,000 aimed at sending eight children and two volunteers PAs to the 2018 summer session of Camp Wonder. Camp Wonder is an annual week-long camp held in California by the Children's Skin Disease Foundation (CSDF). The camp offers children with severe skin disease the opportunity to experience a week of acceptance, support, and FUN.  All net proceeds from our Silent Auction are contributed directly to Camp Wonder to support their 2018 camp season.
Thank you to each and everyone one of our generous our auction donors!
We would like to extend a special thank you to all of our generous silent auction item donors! It is because of their continued support and efforts that we are able to achieve the Foundation's goals of and mission.
---
2017 Charitable Run/Walk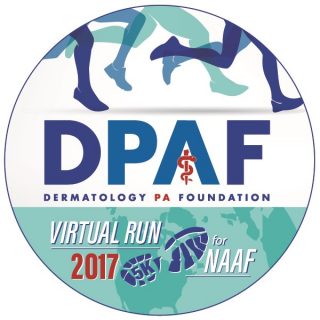 In past years the DPAF and SDPA hosted traditional in-person timed run/walk events in honor of the Melanoma Research Foundation (MRF) at one of the SDPA's annual conferences. In 2017, we shook things up and hosted our first ever Virtual 5K Run/Walk/Sleep-In event, which benefitted the National Alopecia Areata Foundation (NAAF). The NAAF goal is to offer support to individuals affected by alopecia areata, advocate for change, and fund research to find a treatment and cure.
Just like a traditional run, registrants could run, walk or sleep-in. Once participants registered, they received a welcome package inclusive of a commemorative medal and a race bib.
Although the event could be completed in each participants own time, the DPAF hosted an informal in-person gathering Saturday, June 3rd, during the SDPA Annual Summer Dermatology Conference in San Diego, California. Thanks to the support and contributions of our runners, walkers, and sleepers, the DPAF was able to raise and contribute $1,995 to the NAAF. The DPAF also contributed an additional $7,500 towards the NAAF to further their mission and support their patients.
---
2016 5th Annual Miles for Melanoma 5K run/walk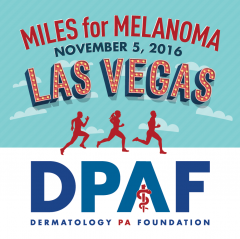 The DPAF was proud to for the first time take over as the formal host of the SDPA/DPAF Annual Miles for Melanoma 5k Run Walk in partnership with the Melanoma Research Foundation (MRF). Each year the SDPA has been hosting these events in conjunction with their annual summer or fall conferences. In 2016 we took over as the formal host with our first event occurring during the SDPA's 14th Annual Fall Dermatology Conference in Las Vegas, Nevada.
A dedicated group of thirty-four runners and walkers together raised over $2,000 towards the MRF's mission to find a cure. Before the race began the DPAF promised to match contributions to the MRF by SDPA runners and walkers dollar-for-dollar up to $7,500. Although we did not reach that fundraising match, the DPAF decided to contribute the full $7,500 regardless!
Thank you to all our runners, walkers and contributors. Special thanks to our top placing runners and fundraisers!
The DPAF is honored have contributed the full $7,500 donation to the Melanoma Research Foundation towards their efforts to find a cure.
---
Inaugural DPAF Silent Auction 2016
The DPAF hosted its Inaugural Silent Auction online from October 24 – November 5th and live in person at the SDPA's 2016 14th Annual Fall Dermatology Conference in Las Vegas, Nevada November 3-6, 2016. During this unique event, SDPA members and conference attendees helped to raise over $9,000 towards the DPAF's $20,000 fundraising goal. The Foundation's supporters and partners really came through allowing us to offer members and attendees the opportunity to bid on more than 40 fantastic items including vacation trips, art, wine, dinners, and dermatology-specific education tools and products.This year's silent auction funds will be contributed towards sending children and PAs to attend and volunteer, respectively, at Camp Wonder in California. Camp Wonder specifically works to take in children who may be unable to attend other camps as their illnesses require around-the-clock medical attention. Although we didn't quite reach our target fundraising goal from auction sales, the DPAF Board of Trustees voted to donate the remaining funds to ensure we reach the full $20,000. THANK YOU to all our supporters for making this a successful first event and contributing towards our program goal.
---
Other Past Events:
The history of SDPA philanthropy activities, from which the DPAF grew, includes the following activities:
2015 Miles for Melanoma 5K Race in Orlando, FL
2014 Miles for Melanoma 5K Race in San Diego, CA
2013 Inaugural Miles for Melanoma 5K Race in Atlanta, GA
2012 Inaugural Miles for Melanoma 5K Race in Seattle, WA