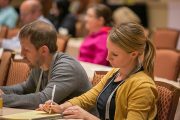 The Dermatology PA Foundation strives to fund education for PAs working within the field of dermatology, helping to develop and retain tomorrow's clinicians, educators, and researchers in the field of dermatology. Each year we work to provide new education and training courses available either during the SDPA's Annual Summer and Fall conference as sponsored sessions, or online through the SDPA Online Learning Center. Additionally, we seek new methods of education, release and collect data through surveys, and provide free podcasts when possible. Below is a list of all live, upcoming and past education from the DPAF. Visit the Scholarships page for any available details on scholarship programs supported by the DPAF such as those to Camp Wonder's annual camp session usually held each June.
Previous Live Courses
DPAF Ticketed Session – Psoriasis Treatment
(June 29, 2018)
This course was held during the SDPA's 2018 Annual Summer Dermatology Conference in Seattle, is the product of a collaboration between the DPAF and FIDE LP. The program will focus on PA knowledge gaps with a unique focus on PAs preferred methods of learning. Course content for this special ticketed session will be developed using analysis from an initial survey sent to PA members of the SDPA in late March. The survey was used to identify dermatology PA knowledge gaps across a range of important issues in the management of psoriasis, including diagnosis, disease burden, pathophysiology, current treatment strategies, drug safety, and comorbid conditions.
Following the conclusion of this session, The DPAF and FIDE LP will be working to develop two 1-hour online courses. Stay tuned! If you are attending the SDPA 2018 Annual Summer Dermatology Conference in June, be sure to sign up for the DPAF Ticket Session during the registration process. Also, don't forget to stop by the DPAF booth and register for our charitable run/walk in honor of the HS Foundation. Visit our events page for more.
FIDE is a group of internationally renowned clinical investigators and clinicians working in academia and community-based practices, all of whom are experts in the development and delivery of educational programs.
---
Past & Expired Courses
The Mental Health Comorbidities of Psoriasis
(Available Now!)
The Mental Health Comorbidities of Psoriasis is a special complimentary course brought to you by The DPAF. Join Dr. Richard Fried, Bethany Grubb, MPAS, PA-C, and Dr. Jeffrey Weinberg for this unique learning experience with a more conversational tone between these three industry experts outside of a conference setting. This course will be available until April 1, 2020. After completing this course participants will have increased knowledge of how to recognize, identify and assess mental health cormorbidities in psoriatic patients, screening tools, an appropriate plan of action, and more. Participants will earn 2 AAPA Category I CME credits for completion of this course. Participants will watch two 1-hour discussions (Part 1 and Part 2) between our faculty, each followed by a course exam.
After completing this activity, participants should be able to:
Recognize, identify, and assess mental health comorbidities in psoriatic patients
Identify screening tools that can be utilized in the office
Identify a plan of action in the management of a patient who is clinically depressed
Identify a plan of action in the management of a patient who reveals suicidal ideations or a suicide plan
Summarize evidence-based recommendations for treating psoriasis
Review evidence on new therapeutic strategies that may further improve outcomes in patients with psoriasis
This course is made available through the SDPA Online Learning Center for easy access by both SDPA members and non-members. To get started, simply log onto the SDPA Learning Center by clicking the button below and search for the course under the "Course Catalog" tab. If you are not an SDPA member and do not wish to join, contact the SDPA at admin@dermpa.org first to set up an SDPA Learning Center profile. Once that profile is set up, you can logon and complete your course as well as purchase or take other SDPA courses. The DPAF will be working to provide education courses each year, so stay tuned.
This course was made possible thanks to a grant from Ortho Dermatologics:

---
Clinical Research Panel Let's Get This Started!
During the SDPA's Annual Summer Dermatology Conference in San Diego, California the DPAF held a unique complimentary education session "Clinical Research Panel Let's Get This Started!" In this session five SDPA and DPAF thought leaders: Bethany Grubb PA-C, MPAS, MPH; Mark Hyde MMS, PA-C; Martha Sikes MS, RPh, PA-C; Travis Hayden MPAS, PA-C; Kristen Grippe MPAS, PA-C each shared their extensive experience conducting research. Through a lively conservation the panel give attendees tips and guidance on how PAs can engage in scientific and clinical research and what moving parts go into clinical research and scientific publishing.
Watch Bethany Grubb, MPAS, PA-C and Mark Hyde, MPAS, PA-C discuss why it's so important for PAs to get involved in clinical research and a few tips PAs can think about as they get started.