The Dermatology PA Foundation (DPAF) was established in part to help expand the impact of philanthropic activities of dermatology PAs. The SDPA has a long history of charitable and educational activities. In 2012, the SDPA established a philanthropic task force, which transformed into the Philanthropic Committee in 2013 to promote the desire of its members to engage in fund raising and awareness of dermatologic disease treatment and cures. In 2015 the DPAF was established as the official philanthropic arm of the SDPA.
Your contribution to the DPAF as an individual donor (however large or small) will aid us in our mission to support the dermatology community and it's patients. Please take a moment to complete the form below and become a contributor. All contributions are tax deductible. You also have the option to make your donation recurring and further extend your impact by covering the cost of the credit card processing fees typically incurred by the DPAF. (* To cancel your recurring donation at any time, please email admin@dermpafoundation.org)
Please check below the contribution form for full details on donor levels.
Individual Donors
Individuals, organizations, offices, and foundations are encouraged to support the DPAF with a sustaining or one-time monetary gift. No gift is too small, and every contribution helps us achieve our goals and support the dermatology community and patients.
Individual Donor – Entry level
Donor ($5/month )
Contributor ($10/month )
Sponsor ($20/month )
Dollar-A-Day ($31/month)
Individual Donor – Chairman's Circle
Silver – $500
Gold – $1,000
Platinum – $2,500
Diamond – $5,000
Individual Donor – Existing Founders Circle Members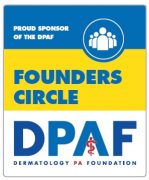 Members of the Founders Circle continue to receive this distinction as long as they continue to donate each year at any Chairman's Circle level (Founders Circle members were inducted during the DPAF founding years of 2015, 2016, and 2017). A special thank you to our Founders Circle Donors:
Diamond Donors
Gold Donors
Greg Buttolph
Jennifer Conner
Jacki & Rick Kment
John Notabartolo
Marcia Starns
Joleen Volz
Silver Donors
Renata Block
Eileen Cheever
Bethany Grubb
Travis Hayden
Gina Mangin
Vicki Roberts
Deborah Steinbar
Jil Swanson
Jennifer Winter