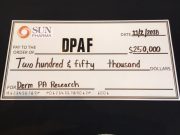 The Dermatology PA Foundation (DPAF) is honored to announce the establishment of our first ever PA specific research grant program. Through this program, made possible through a generous research grant from Sun Pharma, the DPAF hopes to inspire and achieve progress in the field of dermatology by funding education for dermatology PAs, as well as supporting dermatology PA-driven research and promoting philanthropy for the dermatology patient in the communities we serve. 
The grant program will award at least seven grants focusing on various topics of interest to the DPAF and the dermatology community as a whole. These grants will serve to develop a platform for PA led research while simultaneously furthering the field of dermatology. Topics to be considered for the grants should relate to one of the following research goals:
 The impact of the dermatology PA on patient outcomes and patient care for skin, hair and nail diseases and disorders (e.g. access to care, decreased wait times, patient education, etc.).

 The dermatology PA impact, involvement, and accuracy of: skin cancer and melanoma detection, treatment and prevention.

 Skin cancer prevention through the training of non-healthcare skin professionals (hairdressers, barbers, nail technicians, massage therapists, tattoo artists, cosmetologists, etc.).

 The efficiency and efficacy of PDT vs alternatives methods of care (e.g. topical field treatment and liquid nitrogen) on skin cancer treatment and prevention.

 The screening, diagnosis and treatment of psoriasis and associated comorbidities; the screening, diagnosis, treatment of other inflammatory skin conditions and associated comorbidities (e.g. rosacea, acne, eczema, hidradenitis suppurativa, lichen planus, etc.).

 The role of the dermatology PA in the diagnosis, treatment and education of atopic dermatitis patients to reduce their comorbidities (e.g. decreased sleep, inability to concentrate, behavioral impact at school, potentially lower grades, etc.) and the impact to their families (e.g. decreased sleep and stress).

The development and implementation of a practical and useful mental health screening (e.g. depression, anxiety, bullying, impact on relationships and work, quality of life, etc.) in patients with chronic skin, hair, nail diseases and disorders (e.g. waiting room survey, specific questions, etc.).